The exhibition area
The exhibition will open in early February 2010 and run 45 days until the end of March. It will be held in the 1,500 m² curved area on the ground floor of the Milan Triennial (La Triennale).
A selected number of examples of excellence (about twenty cities with cutting-edge policies and districts and innovative architecture).
The exhibition area will include information islands providing access to a vast number of cases.
The style is informative, and the catalogue gives more technical details.
The layout uses "ecological" materials and solutions, with explanations of the choices on dedicated panels. The conceptual strength of the individual designs will also be represented by full-size architectural pieces to highlight the relationship between the aims of the design and the practical reality.
Directions and Interpretations
The exhibition opens with a conceptual introduction to the reasons for the exhibition, and its theoretical precedents.
The introduction focuses on the challenges facing cities and the role of local policymaking, town planning and architectural design – issue, opportunities, visions, guidelines for change, policies in Europe and around the world, and important players. It then moves on to examine the most innovative approaches, concentrating on the European cities that most stand out, with an eye also on the rest of the world.
The relationship between projects, contexts and urban policies is highlighted on three levels (cities, districts and individual buildings), focusing on existing ecological districts and on the cities of the near future, designed to have zero emissions.
The main functions are exhibited – districts and buildings for residential use, office, factories, schools, libraries, museums, and so on.
Specific aspects and solutions adopted are analysed in greater detail – "major designers", individual towns, specific types of building products or design solutions, etc.
The Exhibition Area
The exhibition comprises three main areas:
Districts, policies, and buildings in Europe (Amsterdam, Copenhagen, Hamburg, Freiburg, Stockholm and others) and outside Europe


Components – materials, systems and functions, with descriptions of saving, recycling and reduction (flooring, flooring finishes, tiles, double skin walls, roofs with solar panels, lighting, etc.)


Cases, individual projects and cases of excellence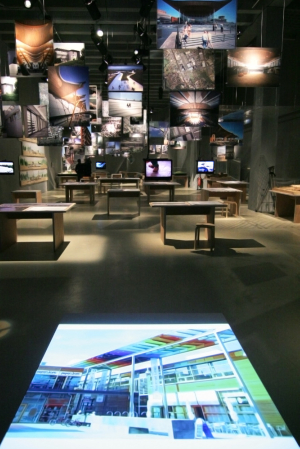 © Daniele Faverzani